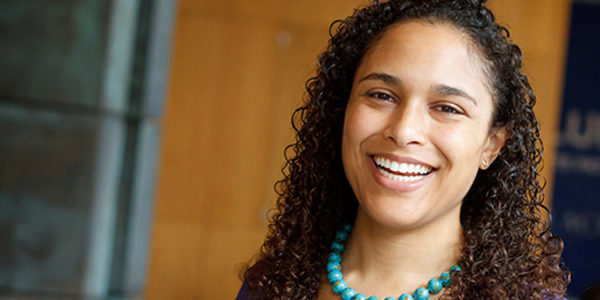 Hometown: Williston, VT
Education: Yale University, BS in Environmental Engineering
Before Wharton: Superintendent and Environmental Engineer
After Wharton: Management rotational program at Braskem
"I want to incorporate sustainability into the commercial side of business, and Wharton has armed me with the knowledge to do that."
---
Bringing environmental sustainability to industrial and manufacturing companies tops the list of career goals for Gwendolyn McDay. On the ground as an environmental engineer at a chemical plant in Ohio prior to Wharton, she realized she lacked the financial background to present environmental initiatives to higher-ups in terms that made sense to the bottom line. At Wharton, Gwendolyn has gained a new financial vocabulary, plus the operations, negotiations and leadership skills to re-enter the chemical industry.
---
When I got to Wharton, my head exploded with the things I didn't know about business.
Wharton's strong finance program really opened my eyes. I came here with a simplified view of what finance is. My understanding of the nuances and the breadth of opportunities in that area and the factors that need to be taken into account was very limited. I was also really impressed with my operations classes. I now look back at how we made decisions at the plant, and I realize that if I had had the knowledge that I have now, we would have been running a much tighter ship.
Being a Leadership Fellow made me contemplate how to create teams that work well together and how to help them succeed.
I not only got a lot of training as a Leadership Fellow, but the opportunity to apply my leadership skills through coaching, public speaking, and being a steward of a community of folks who were disseminating information to the first-year class.
Negotiations classes at Wharton are an endless source of new things to absorb.
One thing we talked about in Advanced Negotiations was the role of anger in negotiations and how to dispel it. That discussion came in handy for me as a Leadership Fellow coordinator. One of the fellows needed help mediating an intensely heated conflict with two members of a learning team. I shared the class concepts on anger with her so that we could better understand where the two team members were coming from emotionally. By figuring out what was going on below the surface, she helped these two teammates come to a better resolution and get through their projects peacefully.
I recruited for consulting last year, and I decided to enter the consulting case competition with two friends. None of us had any consulting experience.
The experience allowed us to see how you solve a problem by breaking it down and structuring a solution. We made it to the final round, the only team without a former consultant on it, and presented in front of partners from a consulting firm. We came in fourth; but we felt honored to make it that far. Later, especially after my strategies class, I understood better the frameworks and approaches we should have used. Comparing the way we did it initially with these new frameworks showed me how much greater my skill set was.
The unparalleled access to companies and executives around the world is completely unique to Wharton.
I did a Global Modular Course in China to see what "Made in China" actually means. We saw a place that makes shoes for Payless and a factory that makes dolls for Walmart. It was really interesting to see how parts come from all over the world, are put together in China, and then shipped to the U.S. You get to see first hand the challenges Chinese factories face and how quickly things are changing there. We had VPs and owners who were clearly very busy sharing whole days with us, explaining how they made financing and operations decisions. There's not a chance that we would have gotten into those factories and talked to folks at those levels if it wasn't for Wharton.
Wharton's career advisory staff encouraged me to try something new to figure out the best match for my life and goals.
As a result, my plan is to stay in the chemical industries with Braskem. Wharton offers you a number of ways to assess your leadership style and strengths, which showed me that an operations position such as chief operations officer, would be ideal for me. I tried my hand at consulting, and it was a really great experience. But, I now see that the kind of impact I want to have involves staying in one company over time.
| | |
| --- | --- |
| 8:00 AM | Wake up and hit the gym. Read my marketing cases while on the elliptical machine as a start to preparations for classes later in the week. |
| 9:00 -10:30 AM | Get ready for the day, including time for e-mails, breakfast, and a bike ride to campus. |
| 10:30 AM | Attend Corporate Valuation or Urban Fiscal Policy. We'll discuss how to incorporate stock options into firm valuations or the economic trade-offs between classroom size and real estate values that will best advance the interests of city "shareholders." |
| 12:00 PM | Grab lunch with a group of peers and our Corporate Diplomacy professor to better grasp how the hydroelectric company we are studying should navigate the Brazilian politics to reduce project risk. |
| 1:30 – 3:00 PM | Attend Advanced Negotiations (T/Th) or prepare for the Global Modular Course on Operations in China – we'll visit 15 firms in 5 days to understand outsourcing, logistics, manufacturing, meeting domestic and international demand, and the swiftly advancing innovation process overseas. |
| 3:00 – 4:30 PM | Attend Leadership Workshop with Professor Adam Grant with material from his new book,Give & Take. |
| 4:30 – 6:00 PM | Meet with Corporate Valuation team to prepare for an upcoming presentation; discuss key drivers and sales projections for international expansion for our firm |
| 6:00 -8:00 PM | Small group dinner with fellow Leadership Fellows at Pumpkin (love the BYOB and the Barnegat Scallops) |
| 8:00 – 11:00 PM | Facilitate a 360 feedback session with the leadership team of a Wharton Club, practicing my coaching skills and supporting the school-wide roll-out of the Wharton Values. |
Interests/hobbies: Exploring, skiing, hiking, personal development, hanging out with good friends
Extracurricular Activities/Clubs at Wharton: Leadership Fellows, MBA Academic Advisory Board, AAMBAA, Consulting Club, Yoga & Wellness Club, Philly Club, Ski & Snowboard Club
Internships/Career Treks: Interned with Deloitte Consulting the summer of 2012
Current Residence: Philadelphia
Favorite Philadelphia Activities/Places: Love the Schuylkill River Trail, Rittenhouse and Washington Squares Parks, the Art Museum, and the Magnolia Garden in Old City
Favorite Philadelphia Restaurants: Alma de Cuba, Vik's Sushi, Smile Cafe, Han Dynasty, Pod