The first joint-degree program in international management, the MBA/MA Lauder Joint-Degree in International Studies prepares future business leaders by integrating the Wharton MBA with an MA in International Studies from Penn's School of Arts & Sciences. Students become part of a small, tight-knit community that is passionate about international management issues and global studies.


The MA in International Studies includes advanced language study and an international course sequence in the humanities and social sciences. The nine languages and corresponding regions available for study are Arabic (Middle East); Mandarin Chinese and Japanese (East Asia); French, German, and Russian (Europe); Hindi (South Asia); and Portuguese and Spanish (Latin America). Lauder also offers a new Global Program for multilingual students.
As part of the curriculum, Lauder students work in teams on a research paper/project known as the Global Knowledge Lab (GKL). The GKL provides students with the opportunity to develop and integrate their language, managerial, and cultural skills in the context of a practical, yet analytical, research undertaking. Projects often are sponsored and/or directed by outside organizations, including foundations, investment banks, consulting firms, or business associations. The Lauder Program runs for 24 months and begins in May. During this month, students complete an area history course and begin theInternational Political Economy of Business Environments course.
Meet our students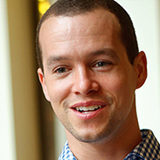 "I knew that I wanted to be engaged in the entrepreneurial community, particularly in Brazil, and thought Lauder was a perfect fit for me. I knew that powerful network would be a great thing to have as I moved forward in my career."
Tom Baldwin
WEATHERSFIELD, CT
In June and July, they travel to a region(s) that corresponds to their program and are immersed in the language, economics, history, politics, business, and culture of the region(s). This summer also includes corporate visits, cultural excursions, activities with Lauder alumni, and a team-based research project that focuses on a topic of current interest in the country or region. Students return to campus in time to begin Pre-Term at Wharton.
Applying to the Lauder Program
Applicants to the Lauder Program should apply through Wharton's online application for admission, which includes a joint Lauder MBA/MA application section. Applicants should follow Wharton's application deadlines; applicants to the Lauder program must apply for Wharton's Round 1 or Round 2 deadline and will not be considered in Round 3. Your Lauder application will be reviewed in its entirety by both the Lauder and Wharton admissions committees. Accepted MBA/MA students are admitted jointly into both programs, not independently into each.
Learn More
To learn more about the Lauder Program, visit the Lauder website, and gain insight into the program by viewing the recent Admissions webinar.