Wharton MBA Classes, Courses & Curriculum
The Wharton MBA curriculum has a unique structure, offering rigor and flexibility. The intensive, cross-functional core curriculum provides business fundamentals and the leadership, communication and analytical skills that are critical to your success. You develop one or more areas of expertise by selecting a major and complementary electives. All MBA coursework varies by instructor and class environment, but the core course offerings (listed below) are consistent throughout the program.
MBA Curriculum
The Wharton MBA Curriculum provides a flexible approach to learning. The program requires 19 credit units (CU) to graduate, which is broken up into 3 categories:
MBA Core Curriculum
You will ground your MBA with six required fixed core classes that will be required for your degree, along with choices in the flexible core. The flexible structure of the core course allows you to take more electives in the first year to prepare for an internship, global experience, business venture, or other interests, and defer some core requirements to their second year. Offered as quarter or semester-long courses, the core curriculum covers traditional management disciplines
The MBA Core classes include 9.5 credit units, distributed in two parts:
Fixed Core: 3.25 credit units fixed in the first semester
Flexible Core: 6.25 credit units in the first semester or anytime thereafter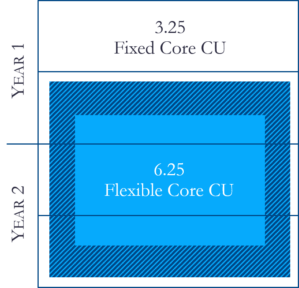 FIXED CORE COURSES
The fixed core courses within the Wharton MBA program consist of the fundamentals and analytical courses that set the stage for your education. These are classes typical of what you would take in business school, and help prepare you for your future,  whether you come to Wharton with a background in business, liberal arts, engineering or more.
Leadership: Foundations of Teamwork and Leadership
Develop your future personal leadership style and capabilities. You will begin with the Teamwork and Leadership Simulation—a team-based, highly interactive simulation that is custom-designed for this course.
Marketing: Marketing Management
Develop skills to apply analytical concepts and marketing tools to decisions like segmentation and targeting, branding, pricing, distribution, and promotion.
Microeconomics: Microeconomics for Managers
Master the basic theory of microeconomics: supply, demand, consumer behavior, market price and output, production, cost, simple competitive market equilibrium, simple monopoly pricing and output determination, price discrimination, and bundling.
Microeconomics: Advanced Microeconomics for Managers
Apply microeconomic theory to firm management and learn how to use microeconomics to enhance decision making. Topics include: sophisticated pricing policies, transfer pricing, strategies for dealing with competitor firms, cooperation strategies, managing under uncertainty, and more.
Statistics: Regression Analysis for Managers
Become familiar with two key statistical methodologies for working with data: regression analysis and experimentation. Learn techniques such as least-squares estimation, tests and confidence intervals, correlation and autocorrelation, collinearity, and randomization.
Management Communication: Speaking and Writing
Speaking: Strengthen your skills in persuasion, speaking confidently, and handling Q&A during the Fall speaking course. You'll have a choice of advanced topics during the Spring speaking courses.
Writing: In WHCP 621, students will improve their ability to organize and develop the kinds of persuasive arguments they'll need to lead teams and effect change.
Flexible Core Courses
More than half of the core courses are flexible in order to match your learning style, interests, and goals. Within each different core area, the course choices offer additional flexibility in content, timing, and format. Subjects include:
Operations, Information, and Decisions
Options: Quality and Productivity, Business Analytics, Innovation, Operations Strategy, Enabling Technologies, Managerial Decision Making
Marketing
Options: Dynamic Marketing Strategy, Strategic Marketing Simulation
Communication
Options: Impromptu Speaking and Elements of Story for Business, Crisis Communication, Fundamentals for Prospective Entrepreneurs, Communications Challenges for Entrepreneurs, and Persuasive Writing for Business Leaders
Accounting
Options: Financial Accounting, Financial and Managerial Accounting
Corporate Finance
Options: Corporate Finance, Introduction to Corporate Finance
Macroeconomics
Options: Macroeconomics, Introduction to Macroeconomics
Management
Options: Managing the Established Enterprise, Managing the Emerging Enterprise
Legal Studies & Business Ethics
Options: Responsibility in Global Management, Responsibility in Business, and Business, Social Responsibility, & the Environment
MBA Electives
Choose your own areas of study. Choose from nearly 200 courses across 10 academic departments, plus many more offered through Penn's other 11 world-class schools. With so much to choose from you can tailor the curriculum to your goals. Your knowledge from Wharton's core curriculum is supplemented by the broad range of elective courses. Some electives will count toward your major, but you'll have room to take some chances and explore new topics.
Electives Across the University of Pennsylvania
One of Wharton's strengths is the ability to extend your studies across the vast academic resources of the entire University of Pennsylvania. When choosing electives, you can work with your advisor to select up to four courses from Penn's 11 other Schools.
A Chronological View of Your Wharton MBA Experience
Pre-Term
Your immersion begins the first day of Pre-Term. Pre-Term is the beginning of your educational journey within the Wharton MBA program. It will transform you in ways you cannot yet predict, preparing you for the many challenges you will face at Wharton — returning to school, transitioning to Philadelphia or adjusting to the U.S., and balancing the demands of academics, career preparation, and co-curricular pursuits.
Pre-Term is designed to allow you time to get settled into the community while providing an essential academic foundation for your Wharton classes, including the core course, MGMT 6100: Foundations of Leadership and Teamwork.  When our students and alumni reflect on their Wharton experience, Pre-Term is among their fondest memories. After you've selected your MBA courses and gotten acclimated to the learning environment, you're ready to take on year one.
Year One
The first year is intense. You will begin by moving through key courses with your learning team — a group of five or six classmates with whom you will work closely on projects. Then, you'll select from many options as you branch out in the second half of First Year and beyond. You'll have a choice of content areas for some core courses and will start to pick your electives. In addition, you will become involved in co-curricular and extracurricular activities that tie into the courses you choose.
Summer
MBA summer internships teach real-world skills, advance your education through experience, and allow you to test your new skills from your first year of the MBA program. Even if the summer internship does not lead to a full-time offer, it is a great opportunity to improve your resume and network with new people.
Internships are not required, but most students choose one or more internships, often in combination with other summer experiences. Some students choose to work on their startup over the summer instead of interning at a company.
Learn more about Wharton MBA internship statistics.
Year Two
You will take any remaining core requirements, drill deeper within the wide range of electives, and develop one or more areas of expertise. For customized interests, students often partner with faculty and businesses on individual advanced student projects.
Commencement
Receive your degree and be welcomed into Wharton's 100,000-strong alumni network.