Develop your personal leadership capacities within Wharton's distinctive blend of leadership coursework, coaching, experiential learning, and wide range of student-run activities. Be a student of leadership; seek and accept stretch experiences by taking a leadership development workshop or challenge yourself on an intensive off-campus Leadership Venture. Surround yourself with coaches, mentors, and trusted peers in the Executive Coaching Program, or become a Leadership Fellow and enable your peers. There are many ways to hone your leadership skills.
Our mission is to develop leaders who act with a deeper understanding of themselves, their organizations, and their communities, and contribute positively to the growth of each. Wharton's leadership programs offer one of the largest set of options to develop your leadership style by analyzing and building on your strengths. Supporting leadership development, Wharton's Center for Leadership and Change Management brings new understanding to developing organizational leadership and stimulating practical applications of this knowledge.
Learning Teams
Your leadership learning begins as soon as you come on campus. Starting with Pre-Term and continuing throughout your first year, you go through the core courses with your Learning Team, a diverse group of five to six students randomly assigned to collaborate on assignments. First developed by Wharton and now emulated by other schools, the Learning Team model is central to Wharton's MBA experience. It is based on the business world in which employees work together in teams that depend on persuasive rather than positional leadership. The team structure encourages trial and error, risk taking, and creative friction among members as they learn to collaborate and lead within a group of peers. More on Leadership and Teamwork.
Executive Coaching and Feedback Program
A one-on-one executive coaching program, open to all first year students, links together the many aspects of students' Wharton experiences throughout their two years. Using an online platform, students incorporate feedback and detailed 360-degree self-assessments from their peers and former coworkers. Based on your individual assessment, your executive coach helps you build your skills through self-directed, individualized leadership development with regularly scheduled coaching support.
Leadership Ventures
Wharton Leadership Ventures, outdoor, experiential leadership development opportunities, are highly immersive, hands-on experiences for exploring and mastering the capabilities for effective individual and team leadership in business and beyond. Using an expeditionary format, these world-class ventures place students under authentic levels of stress and uncertainty to facilitate self-discovery, leadership, and character development. You'll be able to step out of your comfort zone, exceed previously-set personal limitations, and experience leadership firsthand. More than 945 MBA students participated in 13 leadership ventures in 2012-2013.
Leadership Development Workshop Series
A set of active, one to three day learning opportunities, these action-based Leadership Development Workshops allow students to explore and develop their leadership skills and competencies. Highlighting alternative leadership education methodologies with a minimal time commitment, they are an ideal way to enhance your Wharton leadership portfolio.
Leadership Fellowships
Fellows participate in service roles and experience intensive, year-long development through action and reflection. Leadership Fellows act as coaches and mentors for the incoming class. Venture Fellows are second-year MBA students who create an environment for individual and team leadership development on a specific Leadership Venture. Lipman Fellows help with analysis and review of global organizations for the Lipman Prize.
Meet our students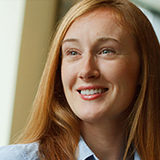 "As a Leadership Fellow, I served as a coach and mentor to 70 first-year students. I most enjoyed helping students find their own paths to success at Wharton."

Kathleen Fleming
EAST SETAUKET, NY
Nonprofit Board Leadership Program
The Nonprofit Board Leadership Program (NBLP) matches second-year MBA students with boards of local nonprofit organizations. Fellows serve as "Visiting Board Members," gaining valuable board experience while supporting the mission of the partner organization. Through the NBLP students learn to be leaders with a life-long commitment to community involvement and board service, creating value for nonprofit organizations and communities.
Wharton Leadership Lectures and Authors@Wharton Speaker Series
Planned by a student committee, through the Wharton Leadership Lecture Series, invites top-level executives to address students on a variety of business issues, particularly transferable leadership skills. The speakers' remarks followed by an informal Q&A, provide insight into the personality, goals, and career decisions that helped shape the executives' paths. After each lecture, the speaker usually has dinner with a small group of students.
Through the Authors@Wharton Speaker Series, world-renowned authors come to campus and share their ideas on topics ranging from management to the social sciences to gender in the workplace.
Conferences, Clubs and More
Wharton supports students' active involvement through the Wharton Graduate Association (WGA), which manages more than 70 clubs. Running one of the 15+ industry-level conferences organized by students each year, managing the high-octane production of Follies, or leading career treks in countries around the world are a few of the many ways students extend their leadership capabilities.