Facts & Figures
Wharton MBA Class Profile
Our community is shaped by our students, making it a dynamic learning environment. Below is a snapshot of the 2021 Wharton MBA Class Profile. Take a second to get to know them – and if you want to know more, come and visit us on campus or put faces to these numbers on our Wharton MBA Stories page.
Wharton MBA Class of 2021
Wharton MBA students come from many different backgrounds, bringing a diversity of experiences and perspectives to our dynamic community.
43% Humanities
30% STEM
27% Business
0
%
U.S. Students of Color*
Integrated Programs
Wharton offers three fully integrated interdisciplinary programs at the University of Pennsylvania, so you can bridge multiple disciplines and customize your MBA experience.
Work Experience and GPA, GMAT, GRE Averages
Work experience, academic transcripts and test scores are just some of the elements that the admissions team reviews as part of your Wharton MBA application. Learn more about the experience, GPA and test averages of the current first-year class. Find out more information on our program and application requirements on the Admissions FAQ page.
Wharton's full-time MBA program requires applicants to submit results of a Graduate Management Test (GMAT) or a Graduate Record Examination (GRE). The average GMAT score of our current first-year class is 732. The average GRE scores are 162 Verbal, 162 Quant, and 4.8 Writing. Current students in the full-time program bring an average undergrad GPA of 3.6, and five years of work experience.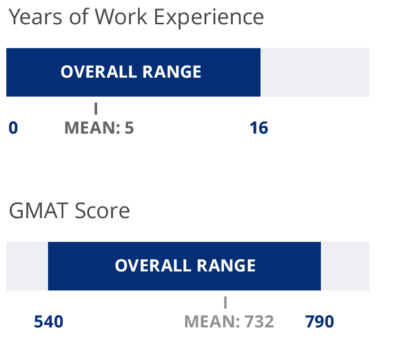 Previous Industry Experience
25% Consulting
12% PE/VC
10% Other
9% Nonprofit/Gov't
9% Tech/Internet Services
9% Investment Banking
6% Other Financial Services
5% Investment Management
5% Health Care
4% CPG/Retail
3% Energy
3% Media/Entertainment
Average GPA only includes data from students who attended universities with a 4.0 grading system.
* Students of African-American, Asian-American, Hispanic-American, Native-American/Alaska Native, Native Hawaiian descent, and multiethnic backgrounds.
Note: Profile as of August 13, 2019