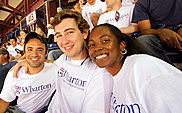 Wharton's MBA curriculum offers depth, breadth, and options. The curriculum emphasizes an intensive, flexible core in general management, plus the depth of 18 majors and breadth of nearly 200 electives.
You will customize your learning by selecting a course pathway through content areas based on your education, career experience, and goals — not just through selection of your electives and majors, but through choices in the core.
Read a progress report on how Wharton is empowering students to choose their own pathway 
Core
Offered as quarter- or semester-long courses, the core curriculum covers traditional management disciplines- with an emphasis on analytical rigor — accounting, finance, marketing, management, operations, statistics, and microeconomics — as well as the leadership, ethics, and communication skills necessary for leadership. This series of courses provides a rigorous grounding for the individualized coursework that follows.
Wharton's core includes nine credit units, distributed in two parts:
Fixed Core: 3.5 credit units fixed with your cohort.
Flexible Core: 5.5 credit units you choose to define your own path.
Elective Curriculum
Wharton's elective curriculum, 10 credit units, provides depth and breadth across traditional and nontraditional areas of management education.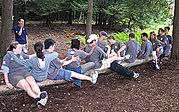 Your Wharton MBA begins with Pre-Term. With a three-week immersion, Pre-Term sets you up for a strong academic experience and ensures that everyone in your diverse incoming class begins from a common knowledge base. Pre-Term also provides the platform upon which you will develop your curriculum plan while bonding with new classmates and building your own sense of community and school pride.
Pre-Term is required. It includes coursework, a Learning Team experience, and the chance to explore Philadelphia and build relationships with your cluster and other classmates.
You will be introduced to your Learning Team at a Learning Team Retreat in an environment free of distraction. This initiates the process of strong team formation. The Teams complete the Management 610: Foundations of Teamwork and Leadership course, and continue the collaboration throughout the fixed core.
Other elements of Pre-Term include MBA Convocation, International Student Orientation, and an Accelerated Corporate Finance Prep Course for students who need it.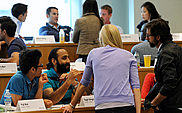 The first year is intense. You will begin by moving through key courses with your learning team — a group of five or six classmates with whom you will work closely on projects. Then, you'll select from many options as you branch out in the second half of First Year and beyond. You'll have a choice of content areas for some core courses and will start to pick your electives. In addition, you will become involved in co-curricular and extracurricular activities that tie into the courses you choose.
Here is a Sample of a First Year Schedule

August

Begin Pre-Term
Meet and build relationships with your cluster
First Year Welcome and Convocation
Take part in a competition of ideas with your learning team
Core Course: Foundations of Leadership and Teamwork course

September

Join the Wharton Graduate Association
Consider which clubs to join
Start the groundwork for your degree with the core curriculum

October

Attend a conference: Investment Management, General Management, Wharton Women in Business, Energy
Participate in Wharton Community Service Day in West Philadelphia
First Year Q1 Salute
Go hog wild at Hog Fest, Wharton's annual rugby tournament

November

Attend a conference: Consulting, Finance, Marketing, Whitney M. Young, or the Africa and Asia Global Business Forums
Participate in a Field Application Project
Work on your core and elective schedule for the spring session

December

Dress up for the Wharton Winter Ball
Participate in a Global Modular Course
Take part in a Global Immersion Program

January

Volunteer for Wharton Winter Welcome and meet and greet round-one accepted students
Take an elective
Attend a conference: Private Equity and Venture Capital

February

Attend a conference: Entrepreneurship, Health Care, Restructuring,Social Impact, Technology
Consider applying for the MBA Program Office Advisory Boards(Student Life or Academic Affairs)
Consider applying for the Leadership Lecture Series Committee

March

Run for WGA, club officers, conference co-chairs, and the Ethics Committee
Apply to be a second year Venture Fellow
Plan your spring break and travel with student groups, or go on a Leadership Venture
Return to the 70's at Wharton 54

April

Work the runway in the annual Wharton Fashion Show
Star in the Follies
Volunteer with your cohort in Rebuilding Together's efforts to renovate homes in West Philly
Volunteer for Wharton Spring Welcome
Celebrate the year at Spring Gala

May

Final Friday
First Year Brunch
Embark on a six-week summer session

Summer

Do an internship. Work at a new company or industry, or try a new function for 6 to 12 weeks, gaining exposure and building networks for a full-time position.
Go on a Career Trek in the U.S. or to Europe, Asia, or South America. Visit prominent companies, and meet with upper-level management and human resources representatives.
Join the Wharton International Volunteer Program. Go overseas for two to four weeks to assist an NGO or small business to develop a project.
Work at a non-profit with support of the Summer Public Interest Fund. The fund is financed by fellow students who pledge one percent of their summer salaries to encourage careers that serve the public good.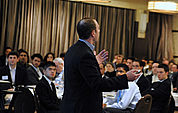 You will take any remaining core requirements, drill deeper within the wide range of electives, and develop one or more areas of expertise. For customized interests, students often partner with faculty and businesses on individual advanced student projects.
Pursuing More Stretch Experiences
Lead a student conference
Each year, Wharton students plan conferences that attract influential international executives from the public and private sectors. These conferences help to make Wharton a vibrant international hub for the exchange of business knowledge.
Participate in a second-year networking expo
Second-Year Networking Expos are open forums that offer employers early exposure to second-year students. Because second-year students often are more targeted in their job searches, the format of the Networking Expos focuses on direct student-employer interaction rather than broad informational presentations.
Attend employer information sessions
Wharton typically hosts more than 150 employer information sessions each year. These sessions allow students to learn more about the cultures and opportunities of potential employers and specific industries through presentations by senior managers and recently hired associates.
Go on a career trek
Career Treks are student-managed visits to companies in various U.S. and international cities for education and networking across all industries. Career Treks provide access to companies or divisions that may not recruit on campus, build industry knowledge, and foster a stronger job search network.