Questions to Ask MBA Admissions Officers
Sometimes, you need more advice than you can find by perusing an MBA program's website and attending an admissions event. The best way to get a real sense for a school's culture and their MBA program is to ask the people who know it best: MBA admissions officers and current MBA students. We've compiled a few questions for you to ask an MBA admissions officer or MBA students as you get to know schools and their programs.
Questions About Academics
Understanding the academic program and teaching style of business schools of interest is key before applying to an MBA program. If you're interested in an MBA, there are some questions about academics that are better suited for current students and others that are great questions for admissions officers.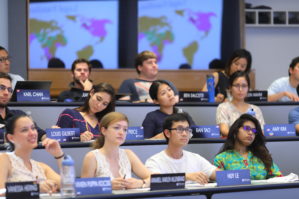 Questions for Admissions Officers
Are students able to select a major or a concentration in this MBA program?
When do students need to declare a major in the Wharton MBA program?
How easy is it to pursue more than one major?
What do classes at Wharton look like? Are classes taught as simulations, case studies or lectures?
What are the core classes in the Wharton MBA?
Are there academic support services on campus such as tutoring and writing centers?
What elective courses are available to Wharton MBA students?
If I don't major in the Health Care Management Program, can I still take courses that are offered to students within the program?
Questions for Current MBA Students
What are MBA classes like?
How hard are the classes in the Wharton MBA program?
What is a typical schedule for MBA students at the Wharton MBA program?
Is the learning environment competitive or collaborative?
How accessible or approachable are professors?
No matter what MBA program you're considering, you'll want to make sure that the culture of the business school is a good fit for you. While admissions officers, can help in this area, asking MBA students or recent alumni about the culture is the best way to learn what it's like at the school.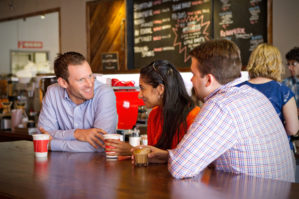 Questions for Admissions Officers
What is the Wharton culture like?
Is Wharton more competitive or collaborative?
How diverse is the student body?
Do most students live on campus or throughout the city? How do they engage with each other?
Many people consider an MBA to advance their careers, while others are pursuing an MBA to change careers. When exploring MBA programs, it's important to compare what career support is available and how the school can support your professional goals. Here are a few questions to gauge the quality of an MBA program's career services and support.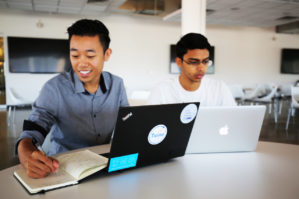 Questions for Admissions Officers
Are there on-campus recruitment opportunities?
What do recent graduates say about Wharton MBA Career Management services?
What are the top industries that Wharton MBA graduates work in?
What companies do MBA alumni usually work for?
What is the placement rate for MBA graduates?
Deciding to attend business school is more than the academic and career services, it's also about the network, the community and access. Whether you want to be an entrepreneur or consultant, an investor or a product manager, here are a few questions to learn if the MBA program has the right tools to help you succeed.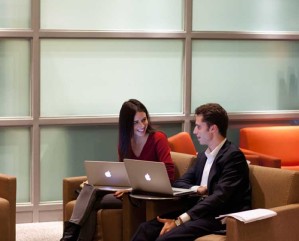 Questions for Admissions Officers
What kind of support do Wharton MBA students receive?
What resources are available to MBA students?
What is the size of the alumni network?
Do current students get opportunities to engage with the alumni network while in the MBA program, if so, how?
What benefits do Wharton MBA students receive following graduation?
Stay Prepared With Wharton
As you explore business schools, you'll get a good sense of what MBA programs are right for you and which are not. Don't be shy! This is your chance to get as much information as possible so that you can make an informed decision and prepare your best application.
If you're considering the Wharton MBA program, be sure to check out our upcoming events and sign up for upcoming opportunities to connect! You can also explore our campus virtually and discover all that Wharton has to offer, from academics to student life.