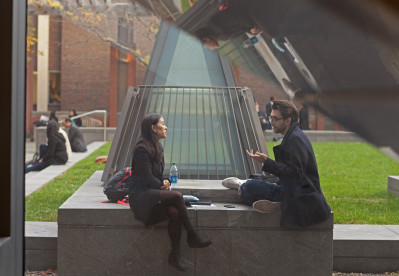 The excitement on campus is especially evident these days – students are finishing classes and studying for exams, preparations for graduation are well under way, and we are in the process of finalizing the incoming class of MBAs!
With the semester coming to a close this week, we will be pausing our Campus Visit Program for the summer months. Today is the final day for formal visit activities; for those of you applying in the Fall, we will resume class visits and campus tours on Monday, September 21st. We will also be hosting student coffee chats and various MBA events throughout the summer. Continue to check our MBA Admissions Events calendar as those dates will be available in Mid-May.
Additionally, thank you to those who traveled to campus for Round 3 Team-Based Discussions, as we loved getting to know more about you in person. We will be releasing final decisions on Tuesday, May 5th and that will officially conclude the 2014-15 application cycle. We have been so impressed by your personal accomplishments and all of your hard work, and we are very excited to be moving forward with the Class of 2017.
If you have any questions contact our office directly at 215-898-6183 or mba-admiss@wharton.upenn.edu.
– The MBA Admissions & Financial Aid Team