Greetings from Philadelphia!
Now that Fall is here and the Wharton Visit Program is well underway, I wanted to take a moment to highlight some of the ways in which you can engage with our community and get a better sense of life in Philadelphia.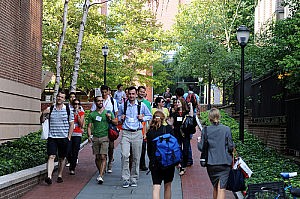 First and foremost – visit us! We encourage all interested candidates to visit us if and when possible.   Our visit program runs three days a week during the academic year – Mondays, Thursdays and Fridays. Through a visit, you can get a better sense of the admissions process, classroom environments, student life and the overall energy that encompasses the Wharton campus. We've already welcomed over 250 students to campus since last month!
Wharton's student-run clubs and conferences give our MBAs the chance to gain hands-on leadership experience and meet like-minded classmates and business professionals.  Wharton is about talented people collaborating with other talented people and our community fosters those kinds of relationship building and networking opportunities.
One of my favorite parts of my role is working with our Admissions Fellows (AFs) on a daily basis. AFs are current second-year students that have been specially selected to work closely with the Admissions Team. Their role is vital to the success of the Admissions Committee and the School as a whole. Specific to the admissions process, our AFs are key players when it comes to:
• Providing critical support through their interaction with and assessment of prospective candidates during the Team Based Discussion process.
• Recruiting the incoming class by conducting on-campus information sessions, in which they provide perspective on the Wharton experience.
Prospective students are welcome to connect with an AF by emailing admissionsfellows@wharton.upenn.edu.
At Wharton we believe that finding the right business school is all about finding the right fit and I hope you will take advantage of some of these opportunities to engage with our students and get a better sense of what our community is all about first-hand. As always, please feel free to reach out to our office with any questions – and I hope to see many of you on campus soon!
Take care,
Anthony Penna
Associate Director, MBA Admissions & Financial Aid