Recently I had the pleasure of representing Wharton on an MBA Admissions panel at Smith College in Massachusetts. In addition to taking in the beautiful northeastern fall foliage, I was able to meet with over 60 women in the early stages of considering an MBA.
Seeing such a solid showing (especially from the freshmen!) at a women's college renowned for the liberal arts was encouraging. Wharton is deeply committed to inspiring more women, including those from non-traditional business backgrounds, to consider an MBA.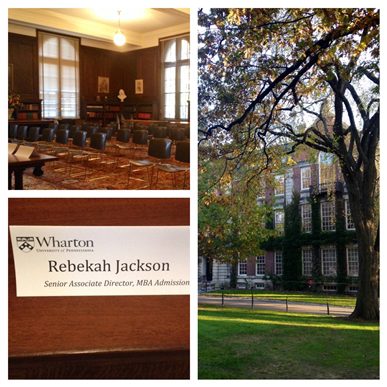 Working with our women's initiatives is one of the most enjoyable aspects of my role in Admissions. This September, I attended the Wharton Women in Business Conference, which featured female business leaders who have successfully crafted their career paths to suit both their professional and personal goals, exemplifying the theme of "Own Your Career." I left exhilarated by the sessions and meaningful work being done by our female students and alumni.
That month, I also joined our fellow partner schools at the Forté Forum in New York City, where I met with candidates going through their MBALaunch for Women program. This is an intensive 10-month program for women intending to pursue an MBA degree that includes guidance, resources and ongoing feedback on the business school application process.
The deadline for MBALaunch applications is coming up on November 15 and I'd highly recommend that any women planning to enroll in an MBA program in 2015 apply for this valuable program. Wharton has had some notable successes in attracting women to our MBA program, but the fact that we are leading all business schools with 42% females says that there is still significant room for improvement in representation by half of the world's population and workforce.
We also know that an MBA has tangible impact on one's position within an organization and graduating more female MBA's will serve to move the needle on the dismal 17% of corporate board members that are women. Helping women to improve this statistic, as well as increase their own career and personal satisfaction is something that I feel passionately about. I am proud to be associated with an institution that is among those leading this charge.
If you are a woman reading this blog, I hope that you will give great consideration to what a Wharton MBA may offer as you consider next steps in your career. For more information, please check out our Wharton Women page or contact a Wharton Women in Business (WWIB) Email Buddy.
Rebekah Jackson
Senior Associate Director, MBA Admissions