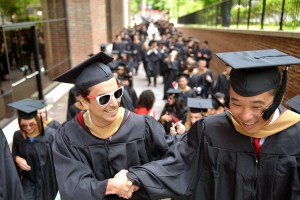 Congratulations, again, to the MBA Class of 2014! It has been exciting to see all of the photos that have hit Facebook, Flickr, and Twitter over the past couple of weeks, and we wish you well as you embark upon this next journey.
Now that campus has started to settle down, the MBA Admissions team is quickly ramping up to hit the road for our summer recruitment travel. On the heels of the Wharton Global Forum Beijing, we will be kicking off our international tour in Asia. The Forum will aim to bring the Wharton classroom to Beijing through keynote speakers, classes, panels, roundtables and networking events all focused on the theme of "Growing Through Innovation." Our Forums are a great opportunity for alumni, students, faculty and staff to connect with each other and learn from key leaders in the industry.
Following our stop in Beijing, the Admissions team looks forward to meeting with prospective students and alumni located in other parts of Asia and Europe throughout the month of June. For more details on our upcoming events, please be sure to continue to check our website. To join us for our events in Asia and Europe, please register through the links provided below.
MBA Admissions Information Sessions – Asia:
• Beijing Information Session: June 11, 2014
• Seoul Information Session: June 16, 2014
• Shanghai Information Session: June 17, 2014
• Hong Kong Information Session: June 18, 2014
MBA Admissions Information Sessions – Europe:
• Moscow Information Session: June 19, 2014
• Paris Information Session: June 24, 2014
• London Information Session: June 25, 2014
• Madrid Information Session: June 26, 2014
Happy summer to all,
Wharton MBA Admissions & Financial Aid
You can also connect with the Forum online by following @Wharton on Twitter using the #WhartonForum hashtag.