A few weeks ago we released the full-time offer data for the Class of 2013.  I'd like to share with you some highlights of this data and give you a glimpse behind the scenes as to how success like this is achieved.  This graduating class continued the growing trend at Wharton of students pursuing entrepreneurial paths – with 60 students in this class starting a business upon graduation.  In addition, we saw an increase in the number of students accepting employment in consulting and PE/VC, technology remaining stable after years of a rapidly increasing rate of accepted offers, and a bump in the median base salary to $125,000.
The pièce de résistance is 97.8% of the students of this class that were seeking full-time employment received a full-time offer – this is the highest rate of receiving full-time offers that we have seen in over 10 years.  Let's talk a little about how we achieved this exciting milestone.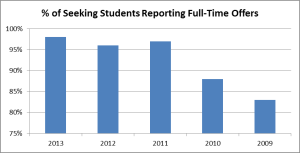 As the world around us changed due to the economic downturn and changing face of business, we followed suit and changed and adapted how we viewed the job search landscape.  We responded to growing student interest in technology, start-ups, private equity, and hedge funds as well as companies that may not traditionally hire MBAs or hire only every 3-5 years.  So, what did we do?  We deepened our relationships with companies that traditionally hire MBAs, have structured recruiting processes, and hire significant pools of interns and full-time from Wharton every year as well as developed and grew our relationships with companies who need to be educated on the value of an MBA, need our support in identifying and recruiting Wharton MBAs, and learn how a Wharton MBA can help shape and advance their business.
Just last summer we visited and had conversations with over 400 companies, including Morgan Stanley, Square, Tesla Motors, BCG, Apax Partners, Facebook, IFC, Medtronic, and Coca-Cola.  This includes companies that will hire 30 students in a year, one per year or maybe one every 3-4 years.  We focus our attention on each company, keeping all our contacts warm year round, and providing support and information to help them hire our amazingly talented students.
Last year MBA career advisors conducted over 2760 one-on-one appointments with students –  imparting advice and developing skills around resume development, company intel, mock interviews, and offer management.  In addition, our world class faculty provides a robust curriculum to teach the skills and knowledge necessary for a student to be the thought leaders and drivers in any industry, function, or company they enter after Wharton.
And what are the results of all of this effort?  I encourage you to check out the list of companies that made offers to the Class of 2013 including Goldman Sachs, eBay, Johnson & Johnson, Google, Rakuten, McKinsey, Exxon Mobil, Twitter, Zynga, Evercore Partners, Bain & Co., and co:collective.
For more information about this year's employment statistics or historical information, please see MBA Career Management's Career Statistics site.  Looking towards the future, we are already hearing positive outcomes from the Class of 2014 in securing full-time offers from their summers and from on-campus recruiting.  I am looking forward to seeing what great things this class, like its predecessors, will achieve.
Regards,
Maryellen Lamb
Deputy Vice Dean, Admissions, Financial Aid, and Career Management