The academic year at Wharton is coming to a close. Students have finished their exams and are counting down the days to beginning of the summer and graduation. Although it will be hard to say goodbye to the Class of 2014 on May 18th, there is great satisfaction knowing that incredible opportunities await them and that they can always call Wharton home.
As the school year comes to an end, the Admissions Committee has completed and released Round 3 decisions – finalizing the admission process for the Class of 2016. This Class is made up of so many talented and gifted students and we can't wait to meet them in August.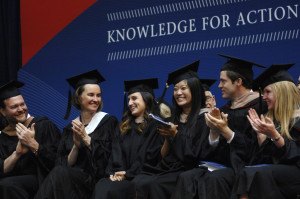 As summer begins, the Admissions team will start heading off to meet and recruit potential members of the Class of 2017. We are in the process of finalizing our summer admissions event schedule and will be positing more details in the coming weeks. Our current students also are hosting Coffee Chats from their internship cities all over the world. This is a great, informal way to learn more about the program from the perspective of someone who is living it!
As the Admissions team and I travel the globe, I hope that we will have an opportunity to meet you on road in the coming months. We look forward to bringing a taste of the Wharton experience to a city near you.
Regards,
Maryellen Reilly Lamb
Deputy Vice Dean, Admissions, Financial Aid, and Career Management