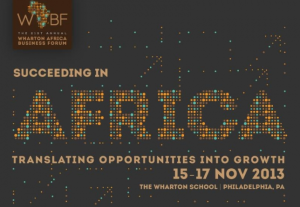 Dear Prospective Wharton Students,
On behalf of the Wharton Africa Students Association, you cordially invited to The Wharton School's 21st Annual Wharton Africa Business Forum. The conference will take place on November 15 – 17.
This year, the conference will include a prospective students' informational session on November 15 (5:00 – 6:30pm, JMHH 250) which will include representatives from Wharton's admissions and financial aid offices, and career specialists. This is an excellent opportunity to connect with current MBA students, Wharton alumni, and recruiters from top firms, such as McKinsey, J.P.Morgan, BCG, Standard Chartered and IFC.
This year's conference theme "Succeeding in Africa: Translating Opportunities into Growth" allows for a dissection of Africa's story, to unveil the stories of the people behind the impressive trends and statistics. The focus this year, is on illuminating the individual's journey to success in Africa and providing a practical roadmap to YOU and all the entrepreneurs, business executives, government officials, academics, and students who convene at the Wharton School over the conference weekend. To trace individual success narratives on the continent, is to connect the dots and reveal the African story as one that is in equal measure about the trials of the individual as much as the achievements of the collective.
BUY your tickets now and spread the word about this exciting event. For more information about our speakers, panels, and panelists, visit our website: www.wabf2013.whartonafrica.com
– The Wharton Africa Students Association (WASA)