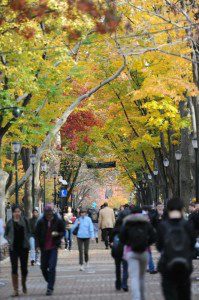 As you are wrapping up your Round 1 applications, we wanted to highlight that our campus visit program will start up again on Monday, September, 29th. The visit program takes place on Mondays, Thursdays, and Fridays throughout the academic year, and provides a wonderful opportunity for candidates to experience the Wharton community in-person. We welcome you to attend classes, tour campus, interact with students, and learn more about the admissions process.
Please note that the formal visit program will not be running October 9-10, 2014, due to Wharton's Fall Break, but the MBA Admissions and Financial Aid Office will be open as usual during this time. The program will start back up again on Monday, October 13th.
For more information about registration and the events that are available, please check out our website.
We hope to see you on-campus soon,
The MBA Admissions & Financial Aid Team