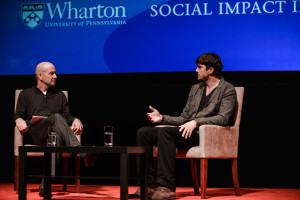 Award-winning actor, tech investor and producer, Ashton Kutcher, recently touched down on Penn's campus to speak candidly with Bobby Turner, W'84, during the Lauren and Bobby Turner Social Impact Executive Speaker Series on October 7th.
Kutcher opened up to a full auditorium of Wharton students, staff, faculty and alumni, about his childhood, his career and his role as an investor. His candid approach showcased another side to the sitcom star – highlighting many of the reasons why he was named one of Time Magazine's Top 100 Most Influential people.
Through a partnership with the Wharton Social Impact Initiative (WSII), the Lauren and Bobby Turner Social Impact Executive  Speaker Series is focused on bringing high-profile guests to Penn's campus to share their first-hand experiences about how they've made a positive impact on the world – highlighting both their challenges and their success stories. In the past, the series has brought speakers such as Earvin "Magic" Johnson, Andre Agassi, Chris "Ludacris" Bridges and Eva Longoria.
About WSII
Established in 2010, the Wharton Social Impact Initiative is the hub for social impact activities, information, and resources at Wharton.  WSII supports faculty, students, and alumni in the drive to use business knowledge and practices to enhance the greater good of the local community, the nation, and the world.
Originally the Wharton Program for Social Impact, WSII harnesses the knowledge and creativity of the Wharton community to investigate, create, and implement solutions to enduring social problems.