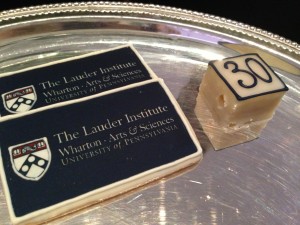 This past weekend in New York City, over 700 alumni, students, and distinguished guests celebrated the Lauder Institute's 30th Birthday and looked ahead to the future of global business education provided by the premier joint-degree program combining the Wharton MBA or Penn Law JD with an MA in International Studies. The birthday bash was organized by Lauder alumni under the leadership of Leonardo Navarro (Lauder/WG '11) and Matthew Axelrod (Lauder/WG'11) and would not have been possible without the generosity and support of the Lauder family—brothers Leonard and Ronald Lauder founded the Lauder Institute after recognizing the need for more globally-minded business leaders. "It's a rare thing for me to see a dream fulfilled…but I see it tonight," Ronald Lauder opened up to guests during the Saturday evening gala at the Museum of Modern Art (MoMA) "You make me very proud. You are the very best."
Festivities kicked off with a reception at the Neue Galerie, co-founded by Ronald Lauder, and continued into Saturday with a Lauder alumni forum during the day, an interview between Lauder Director Mauro Guillen and Executive Chairman of The Estée Lauder Companies William Lauder, a spectacular gala at the Museum of Modern Art in the evening, and a variety of activities to connect and engage the Lauder community. Keynote speaker Indra Nooyi, Chairman and Chief Executive Officer of PepsiCo, described the Lauder Institute as "the 20th century's gift to the 21st century," emphasizing the need for business leaders who know how to thrive in a multi-stakeholder, multi-disciplinary and multi-cultural  environment. The Lauder Institute provides its graduates with the skills and knowledge they need to navigate a rapidly changing global landscape and enables them to step into leadership roles where they will draw on their Lauder education, whether that is in microfinance in Peru, private equity in the United Arab Emirates, leading Condé Nast's business in China,  directing innovation for the Peace Corps, starting a successful business in Brazil, or working at a global company such as McKinsey and Google in locations spanning the globe.
During the evening gala, Lauder Advisory Board member René Kern (Lauder/ WG '90) unveiled the Institute's capital campaign to raise $20 million to invest in building the next generation of global business leaders. The Lauder family will match dollar for dollar the first $10 million raised by Lauder alumni and friends. The campaign will support financial aid for Lauder Institute students and promote innovation.
About Lauder: The Lauder Institute is a joint-degree program that combines the Wharton MBA or Penn Law JD with an MA in International Studies. Lauder students integrate international business and management education, advanced language study, dynamic research projects, and a two-month immersion in a region or regions corresponding to students' academic programs of concentration and target languages. This unique combination enables the students to navigate a rapidly expanding global economy and confidently conduct business in global and local/regional markets. All Lauder students are a part of both the larger Lauder community and one of ten academic programs of concentration—nine focused on advanced language and regional studies (Arabic, Chinese, French, German, Hindi, Japanese, Portuguese, Russian, and Spanish) and the newly launched Global Program for multilingual students. To learn more about global business education at Lauder please visit our website. Questions? Contact Meghan Ellis, Lauder's Associate Director of Admissions, at ellismeg@wharton.upenn.edu.