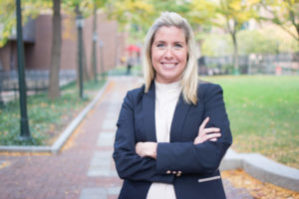 Thank you to everyone who has reached out to our office with, frankly, some really great questions about this upcoming application season. We just opened our application for those looking to join the Wharton MBA Class of 2023. Given this year's challenges, we recognized that there are some unanswered questions that I'd like to address. Thinking about our applicants, we wanted to remain forward-thinking and recognize that the MBA application process is not the same as years past. Like our candidates, we have to adapt to meet the changes and challenges of this COVID-19 world. We know that the MBA journey can be stressful. We hope that making these small changes is helpful as you prepare your application.
I'm writing to share an update from our office about testing requirements. As we've previously shared, Wharton will accept the at-home GMAT or GRE tests from students who are unable to sit for the assessment in-person due to the closure of local test centers. Since this announcement, many of you have written to us with concerns about at-home test availability. We recognize that for some, the inability to access these assessments presents a challenge at best, and an undue hardship at worst.
We hear your concerns. It's because of this that we've decided to accept applications for Round 1 without testing for those candidates managing through any one of the following conditions:
Inability to take an at-home test due to medical or disability reasons
No online tests available
Located in a region with restricted internet and/or limited availability to in-person tests
For anyone meeting the above-listed criteria, you will have an extension to submitting your test score. Instead of submitting your test results by the application deadline of September 15, 2020, you will have until October 21, 2020 to supply your test scores. We want to ensure that we are meeting our candidates where they are. We also need to ensure that all GMAT or GRE scores are submitted to finalize our review before releasing Round 1 interview invitations.
If you're managing through any of the above criteria, we've made it easy for you to alert us of your situation. When you log in to your application, you will see a drop-down option to select your situation if you're unable to submit test scores at the time of application. If you have any issues with this section of the application or any questions, please don't hesitate to reach out to our office. We're happy to help with any questions, and we look forward to reading your applications next month.
Take good care,


Blair Mannix
Director of Admissions